Certification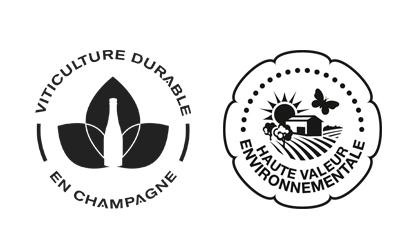 After our  H.V. E (high environmental value) certification, we are pleased and proud to announce the achievement of our V.D.C (Viticulture Durable en Champagne). We have been engaged for years in a more responsible and environmentally friendly approach. This reward salutes the fruit of our work and our efforts to preserve our vineyard and our terroir.
• Biodiversity
• Phytosanitary Strategy
• Natural grassing of slopes
• Reasoned culture
• Rainwater and wash water recovery
A good wine is only made from a good grape, and for it to be tasty, the vineyard must above all be healthy
to discover...
Brut ``0`` dosage
Composition
60% Pinot Meunier
30% Chardonnay
10% Pinot Noir
Wine having been matured one more year, i.e. champagne 4 years old
No Malolactic
Quantity limited to 300 bottles per year
Tasting comments
Intense golden color to old gold
Open, generous bouquet, with aromas of ripe white fruits (pear, golden apple, yellow peach)
Brioche notes, biscuit, pastry cream,
Richness, fullness, fat, vinosity
Thanks for this private tasting at "Wines, Terroirs, Authentiques"