Extra-Brut, Brut et Demi-Sec
60% Pinot Meunier
30% Chardonnay
10% Pinot Noir
These three champagnes have the same blending, only the dosage in sugar is different.
Brut also exists in 1/2 bottles.
Did you know ?
During the disgorging, a quantity of champagne goes out of the bottle at the same time as the deposit. This volume loss is compensated by the addition of an expedition liqueur, also called dosage liqueur.
This liqueur is composed with non sparkling wine of champagne (Pinot Noir or Chardonnay) and cane sugar.
Depending on the type of wine, we will add pinot noir liqueur or chardonnay liqueur. The dosage  is readapted every year based on tastings in March and September.
Its quantity depends on the champagne we want to produce :
Dosage liqueur generally contains 500-750 grams of sugar per litre. The quantity added varies according to the style of Champagne:
doux more than 50 grams of sugar per litre
demi-sec 32-50 grams of sugar per litre
sec 17-32 grams of sugar per litre

extra sec

12-17 grams of sugar per litre

brut

than 12 grams of sugar per litre
extra brut 0-6 grams of sugar per litre
"Brut nature", "pas dosé" ou "dosage zéro" contains zero dosage and less than 3 grams sugar per litre

Églantine
89% Chardonnay
11% Pinot Noir
Successful harmony between the traditional cuvees and the red wine of Champagne. After two years of maturing in the cellar, this Rosé will delight your eye and palate.

Athanase
1/3 Chardonnay
1/3 Pinot Meunier
1/3 Pinot Noir
The perfect balance between the three Champagne varieties. Round in mouth, with body. To be served as an aperitif and throughout the meal.
Also available in magnum, with an additional two years of aging.

Le Moymer
Elegance simply! The fineness of the bubbles will make you wish a tasting of long duration. Perfect with your fish or seafood.

Les Cossiers
This Blanc de Noir will charm you by its sparkly dress and floral nose. Roundness and harmony are present for this cuvee 100% Pinot Meunier.
Why these names?
The "Moymer" was the name of the Mont Aimé in 1273. " It is a place steeped in history, from the Paleolithic to the 1st battle of the marne in 1914. The mont Aimé is today a wine site of great importance, mainly planted with Chardonnay.
The "Cossiers" is the nickname of the champagne winemakers who rioted during the crisis of 1911 to enforce the French law which stated that you could make champagne only with champagne grapes.

La Part des Anges
50% Chardonnay
50% Pinot Noir
The subtle blend of chardonnay and its finesse, pinot noir and its power in roundness, make this blend of two noble Champagne grape varieties, an ally of your evenings between friends.

Aladiah
Roundness in the mouth, power and elegance. Pinot Noir in all its power … To discover now! Match with aperitif and meat.
Brut ``0`` dosage
60% Pinot Meunier
30% Chardonnay
10% Pinot Noir
Wine having been matured one more year, i.e. champagne 4 years old
No Malolactic
Tasting comments
Intense golden color to old gold
Open, generous bouquet, with aromas of ripe white fruits (pear, golden apple, yellow peach)
Brioche notes, biscuit, pastry cream,
Richness, fullness, fat, vinosity
Quantity limited to 300 bottles per year
Thanks for this private tasting at "Wines, Terroirs, Authentiques"

Coteaux Champenois Rouge
On the nose, red fruit, with some smoky notes and a floral aroma. The mouth is full, round, powerful with spicy shades.

Coteaux Champenois Blanc
white wine
100% Chardonnay
A very expressive nose, on the fruit and citrus such as lemon green. Pretty straight forward attack. A lot of finesse and lightness.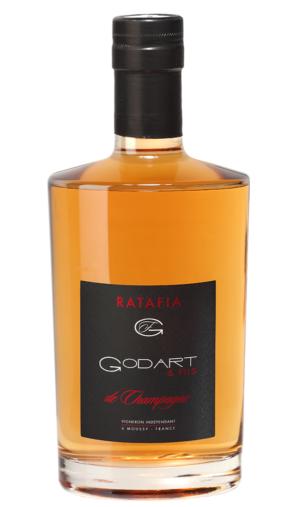 Ratafia
Ratafia of Champagne is a "mistelle". It is made from alcohol and unfermented grape juice. Adding alcohol stops fermentation in order to keep residual sugar and fruity.
Perfect as an aperitif, it will also be a great ally in the kitchen with the melon, foie gras or for the creation of your sauces.
Ratafia is in Champagne, what Pineau is in the Charente, the pommel in Normandy, the Macvin in Jura and the Floc, in Gascony.
Visit of the winery
During your visit you will discover traditional press, winery, cellar and disgorging site as well as various works depending on the period.
These visits can be conducted in French or English.